Service design is all about taking a service and making it meet the user's and customer's needs for that service. It can be used to improve an existing service or to create a new service from scratch. In order to adapt to service design, a UXdesigner will need to understand the basic principles of service design thinkingand be able to focus on them when creating services.
The principles here are drawn from the design ethos of Design4Services, the organization that is committed to developing service design and promoting business transformation. These are widely accepted in the commercial sector. There are other ways of approaching service design, which are not as widely used but which may add value to the service designer's toolkit; we have listed some of these approaches in the resources section at the end of this piece.
When it comes to service design – it can help to remember that "A design isn't finished until somebody is using it." Brenda Laurel, designer at MIT.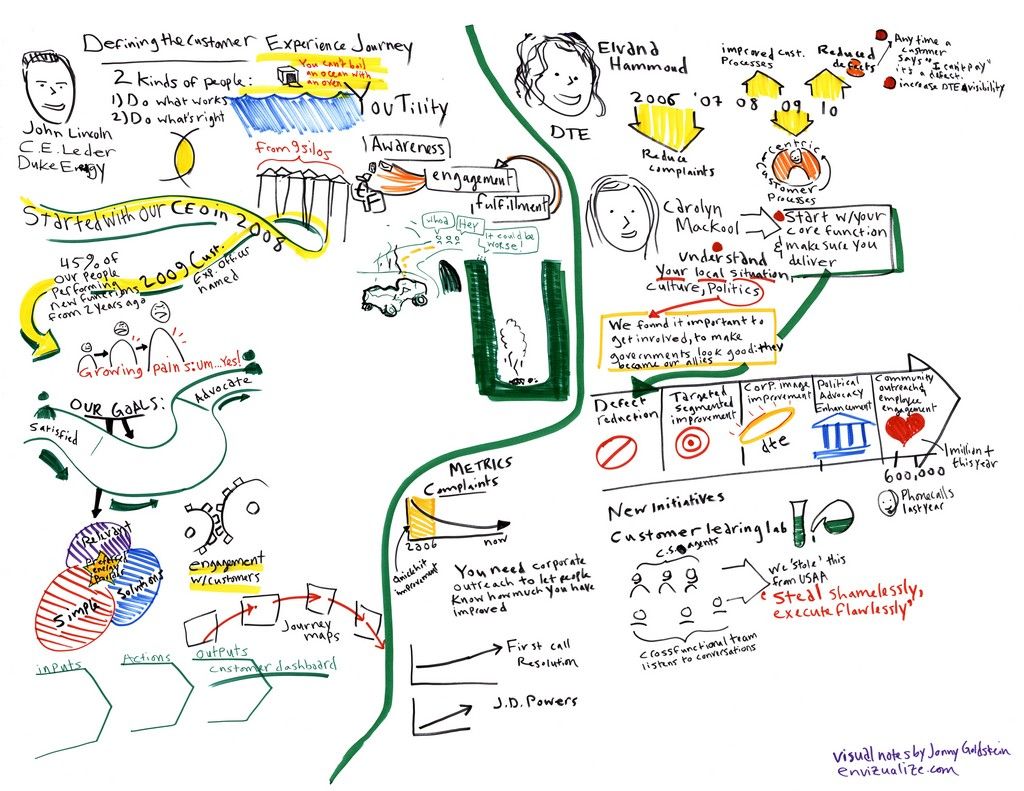 Author/Copyright holder: jonny goldstein. Copyright terms and licence: CC BY 2.0
Service design feeds into creating great customer experiences. This a customer experience map for a utility service.
General Principles of Service Design
The general principles of service design are to focus the designer's attention on generic requirements of all services. They are complemented by principles that relate to process design, organizational design, information design and technology design – we will come to these complementary principles in a few moments.
The general principles of service design are:
Services should be designed based on a genuine comprehension of the purpose of the service, the demand for the service and the ability of the service provider to deliver that service.
Services should be designed based on customer needs rather than the internal needs of the business.
Services should be designed to deliver a unified and efficient system rather than component-by-component which can lead to poor overall service performance.
Services should be designed based on creating value for users and customers and to be as efficient as possible.
Services should be designed on the understanding that special events (those that cause variation in general processes) will be treated as common events (and processes designed to accommodate them)
Services should always be designed with input from the users of the service
Services can and should be prototyped before being developed in full
Services must be designed in conjunction with a clear business case and model
Services should be developed as a minimum viable service (MVS) and then deployed. They can then be iterated and improved to add additional value based on user/customer feedback.
Services should be designed and delivered in collaboration with all relevant stakeholders (both external and internal)